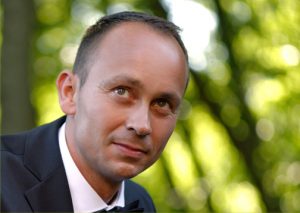 Sören Klebingat, award winning interior designer, is the founder and owner of the company VonSchöngestalt. He completed his studies for "Interior Architecture" and the renowned 'Kunsthochschule Heiligendamm' and graduated with honours upon receiving his diploma. Following this initial study, and building on the 'Interior Architecture' knowledge, he studied Architecture at the HTWK in Leipzig. An attractive job offer led him to move to Bavaria in southern Germany where he worked for many years as an interior architect and interior designer. The primary focus of his work during this time was in designing individual trade show displays and retail shop design for some of the most well known brands in Germany and worldwide. A desire to be in northern Europe again motivated him to relocate to Sweden and take a job for a manufacturer of shop systems and individual shop planning and design. At this company Sören used his knowledge as an interior architect and interior designer to create concepts for retail spaces in collaboration with the production for all of Scandinavia.
In 2004, he decided to relocate to Berlin, Germany and open his own business. In the beginning he worked as a freelancer for reputable Interior Design offices in Berlin, whereby he was able to build upon his knowledge and experience in designing upmarket hotels and five-star restaurants. During 2007 he joined Carola Eickelmann and founded his company VonSchöngestalt and moved into a dedicated office space.
From 2012 the offices of VonSchöngestalt were located in a historic building on the 'Weberwiese' which is now occupied by VonSchöngestalt's Berlin partner company, Kjubik. Kjubik and VonSchöngestalt work together on many projects, bridging the space between Sydney and Berlin.
Now located in the northern beaches of Sydney, Australia, VonSchöngestalt is happy to accept new clients in Sydney or elsewhere in Australia.
Standard service offerings
Draft plans – providing a floor plan and room views with suitable colour options
Colour and Material concepts to demonstrate the "look and feel" in presentation form
3D visualisations and realistic renderings using the most modern computer programs and technology
Conceptional light and electrical planning
Floor and ceiling plans
Draft designs for custom built in and individual furniture
Implementation planning for interior architecture
Acquisition and allocation of tenders
Participation and involvement in the acquisition of tenders
Management of design and aesthetic aspects of building projects
Suggestions for decorations, furniture, artwork and accessories, complete with sourcing information
For many services an appointment on site is not essential. Owing to the enormous selection of technologies in today's world, our company can offer our customers who are not in Sydney or Berlin the same level of competence and quality service and still guarantee the highest level of customer satisfaction which are customers in Berlin and Sydney have grown accustomed to.